Products & Professional Services
SIT Digital International Inc. has vision to be topped with latest technologies and to serve its customer.
We welcome partnership relations from all over the world on certain set criteria related quality of service protocols. Partners can act as fronting to the end customers, a joint venture with SIT or a sub-contractor to SIT.
Innovative individual professional can also join us using the partnership plans and can act as SIT Digital Team for our esteemed customers.
Our hosted technologies carry ESRI & Microsoft suites, where custom applicaiton are developed for modern use cases. Per month billing model, project model or outsourced competance model can be adopted by custmers as per their preference.
SIT Digital Support To Their Customers
Problems Faced BY Fiber Owners
SIT Digital All Products Are OSP/ISP Related Functions
ESRI ArcGIS Enterprise-based solution to reduce time to design and Install fiber networks, discover bottlenecks faster, greater data integrity and access for field maintenance. SIT FUMS incorporates ESRI Enterprise, ArcGIS Pro, Microsoft SQL Server, ASP.net, Python, Microsoft SharePoint, ArcGIS API for JavaScript, Android, and iOS Technologies.
SIT Desktop is an ESRI ArcGIS Pro desktop-based tool for planning and designing fiber networks. It carries data import and export functions as well as auto FTTH design functionality. Field intelligence is supported by standard schematic and document export for fiber development.
SIT Digital developed Enterprise Content Management application, that stores and manages all the contents of PMO projects, which is used on both the web and mobile. Well integrated with SIT FUMS to provide storage for PDFs and Images related to survey and design workflow.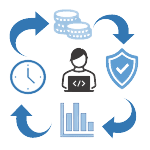 SIT PMO (project management Office)Large-scale project monitoring and management tool built on Microsoft technology, integrated with mobile and user-friendly online apps.
SIT Work Order Management
Work order management tool part of SIT FUMS solution built on ArcGIS Enterprise and ASP.net was created for the implementation of passive networks like fiber-to-the-curb (FTTC), fiber-to-the-building (FTTB), and fiber-to-the-home (FTTH) appropriate for the function of record management.
ESRI ArcGIS Enterprise-based workforce management tool customized for deployment and operations of passive networks like fiber-to-the-curb (FTTC), fiber-to-the-building (FTTB), and fiber-to-the-home (FTTH)
Dashboard developed on ArcGIS Operations Dashboards provides an in-depth graphical representation of our passive network, displays network-available content visualizations and various associated reports with interactive geolocations.
ESRI Field collector mobile application based on SIT FUMS schema to collect real-time data, implement, monitor, and optimize data.
FUMS Desktop Architecture