SIT Digital International Inc. is an Engineering Competence Center and market leader in digital solutions globally. SIT established in 2010 by an innovative passive network consultancy group. SIT is partner with ESRI, Microsoft and other players in its domain.
SIT ensure high quality innovative services, products and solutions with its professional, experienced and motivated teams. SIT provides wide range of digital services in area of expertise, especially in GIS based OSP Engineering.
SIT teams believe in knowledge harvesting and leverage customers with multiple continent experience with tens of utility operators especially in Telecom, Electricity, Gas and Water.
We are the consultant of consultants, enabling business from hidden components within the customer Inventory Systems. We believe on tools and techniques, where this becomes our strength in the grooming of SIT Digital.
GIS  Plays an extremely important role in telecoms and network services.It is used in planning, collecting, analyzing and storing complex network designs that needed to come up with a working architecture in the field of telecoms, some highlights are below
Multi-dimensional informatics.
Location enabled information in digital format.
Analytics, Reports, Dashboards, Portal and much more.
Mobile based Integrated Surveys.
Inventory status residing in single database repository.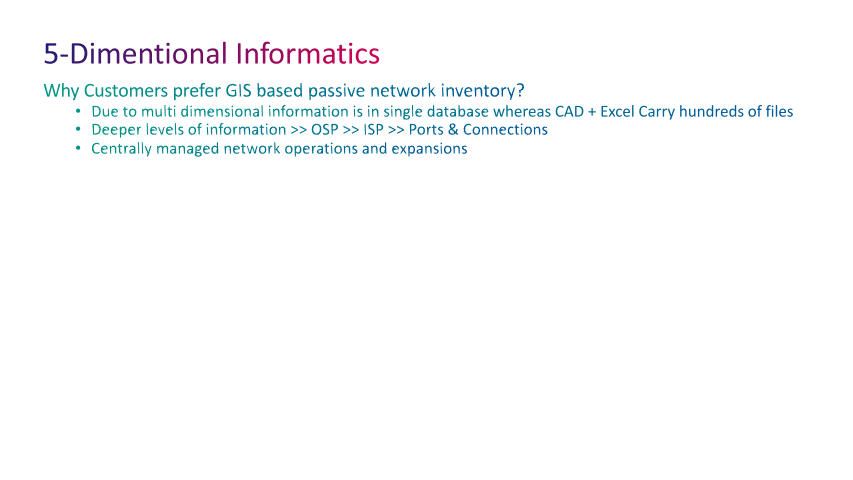 We Are Identified Competence Center For
Products & Professional Services
Passive Network Consultancy
 related to Passive Network Survey
Development & Integrations
SIT Digital carry rich experience in Planning, Design and GIS Inventory domain, we as ftth consultant have successfully completed multi billion dollar projects with precise governence ownership and resulted with time, cost, scope & data efficiency. We served more than 20 major operators in the globe directly and via turnkey vendors. Our engagements cover USA, Canada, Middle East, Africa, South Asia and Australia geographies. we have done several projects related to:
GIS inventory establishment.
Non GIS to GIS data migration.
FTTH planning & design.
Fiber Operations, network audit and integrated surveys.
Landbase development and codification.
GIS Fiber design trainings.